Middle Georgia State University's top priority is the health, safety and well-being of our university community. Our campus leadership is following the guidance of the  CDC ,  Georgia Department of Public Health  and other official resources. In consultation with MGA's COVID-19 task force, the University has cancelled this year's planned  service learning  program, Knights Impact, scheduled to depart on May 9. This decision reflects the CDC's latest recommendations that higher education institutions consider canceling or postponing international programming and that all travelers avoid cruise ship travel. 
  We understand this news may be deeply disappointing for our students who have been preparing for this global experience. Please let us know if you have any questions.  
Knights Impact is co-created by:
the Office of International Programs , whose goal is to offer an international learning experience to every Middle Georgia State University student through study abroad programs, international partnerships, faculty development, and international student activities.
the Office of Experiential Learning (Experiential Learning@MGA), which strengthens student learning and engagement by facilitating "exploration and application beyond the classroom," transforming students' perspective, their career trajectories, and our shared communities through internship, service learning, and undergraduate research opportunities.
(Adapted from Fathom.org)
The Theme
This years program focus will be "perspective". A theme influenced by the following quote from Mark Twain's 1869 non-fictional work  The Innocents Abroad, which humorously chronicled his 1867 world travels through Europe and the Holy Land.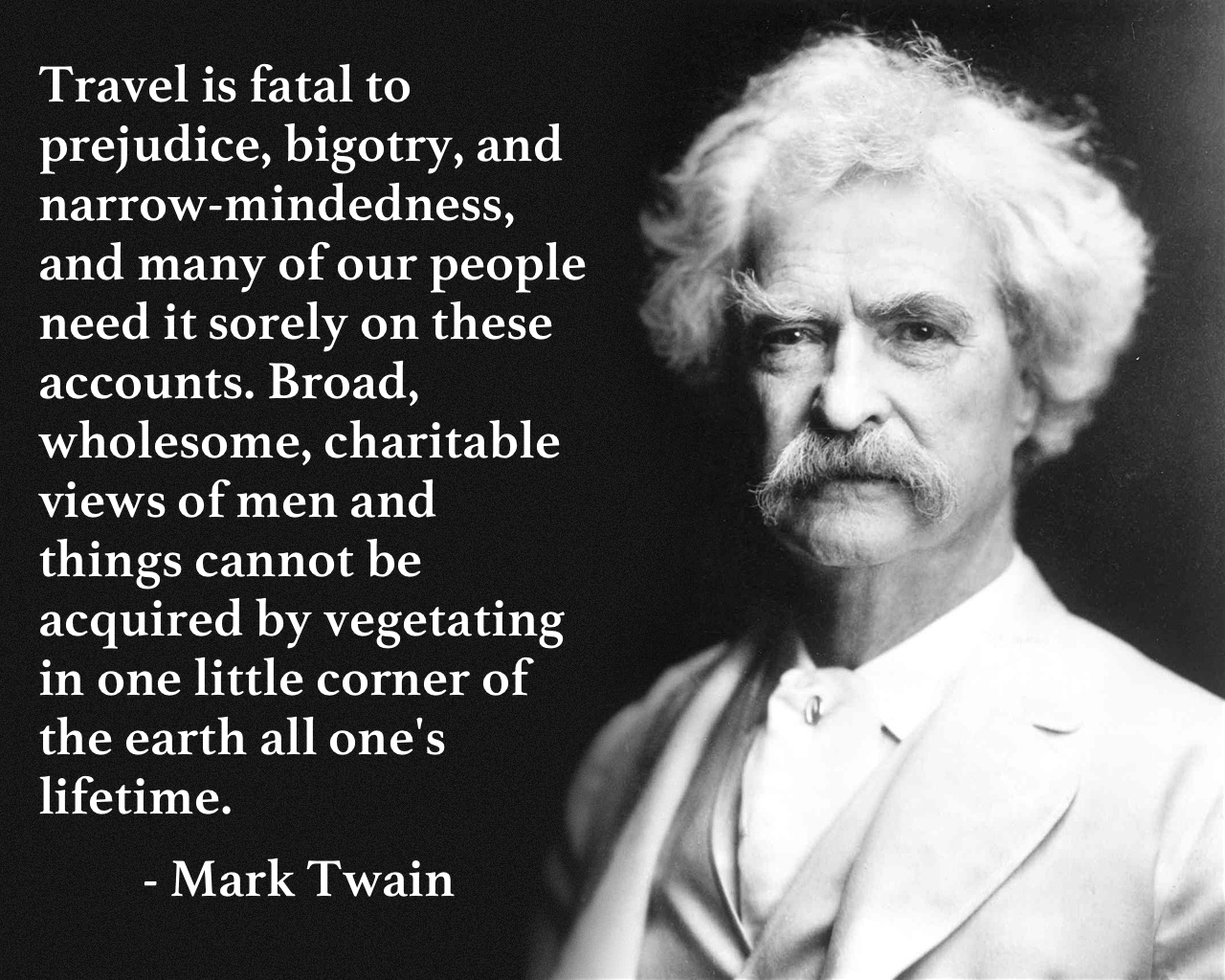 What's Included
Impact Travel Activities on the Ground
The highlight of any Knights Impact trip is the opportunity to collaborate with local volunteers on important projects that contribute to the sustainable economic, educational, and environmental health of local communities. Impact activities are included in the price of your trip. The budget details can be found under the "Cost Breakdown" tab.
On-Board Events
Aboard the ship, you'll participate in unique programs and workshops to prepare you for the impact you'll make once you're ashore. These workshops will help you prepare for your on-ground experience by offering you tools for authentic interactions and critical reflection while you get to know your fellow travelers. Additional entertainment activities are available as part of the cruise itinerary. Payment for most onboard programming and events is covered in the price of your trip, while a small number of optional events/activities are offered at an additional fee.
Meals
Daily breakfast, lunch and dinner aboard the ship are included. Additional food expenses incurred while in port are not a part of the program cost. You may plan to carry food off the ship with you to minimize expenses. If you're feeling adventurous, additional curated dining experiences will be available on board at an additional cost.
Accommodation
Your trip includes a seven-night stay in a comfortable stateroom aboard the Magic. All rooms feature space for two people.
At-Sea Transport
Your trip includes round-trip travel by ship between Port Canaveral and all ports of call. Transportation to Port Canaveral is not included.
Ground Transport
Organized excursions will include ground transportation and a few are scheduled within walking distance to the ship to minimize transportation costs. Transport for leisure activities throughout the itinerary will be at your own expense.
Impact Activities
Sunday starts off with an at sea day. Group activites are planned, but students will have a majority of the day to participate in activites onboard the ship or just relax and soak up the sun. 
On Monday around 9 am the Magic will dock at the port of Amber Cove, near the city of Puerto Plata, Dominican Republic. Here, in the nearby villages, is where you'll put your skills, your passions, and your shipboard orientation and training to good use. During the day you'll immerse yourself in the culture by joining the locals in impact activities that support the environmental or economic health of their communities. Ready to have fun? Explore the landscape, relax in the Cove, and chart your own adventure. Impact activities may include:
Environmental
Water Filter Production
The water crisis is a reality that plagues the entire world. In the Dominican Republic alone, more than three million people have no access to piped water.
Economic Development
Cacao and Women's Chocolate Cooperative
The poorest half of the Dominican Republic's population receives less than one-fifth of the country's annual GDP. But the economic opportunities are there. And so is the willingness to take advantage of them.
Recycled Paper and Crafts Entrepreneurship
Another group of enterprising Dominican women have formed an association to create and sell arts and crafts from locally recycled paper.
On Tuesday after docking in Charlotte Amalie (St Thomas), US Virgin Islands at 11:00 am, the group will take a 15 minute walk to the nearby storefronts of USVI Chapter of the Salvation Army and the Humane Society of St. Thomas.
Animal Welfare
Since 1957, the Humane Society of St. Thomas has been sheltering abandoned animals, fighting cruelty and neglect and working to create an environment of respect, responsibility and compassion for all animals throughout the territory.
Afternoon service projects may conclude with time to visit one of the most beautiful beaches in the world, Magens Bay.
Wednesday, upon docking in Old San Juan, we anticipate partering up with the San Juan Chapter of the Salvation Army for a day of wide ranging volunteering opportunties or return to the Manuel Fernández Juncos Children's House, a non-profit corporation that provides reeducation and treatment services to the problems associated with abuse, neglect and neglect of children, adolescents and youth of our country, for one hundred and eleven years. 
 Thursday we stop in Grand Turk. This day of relaxation is planned for students to recuperate and explore the island and all kinds of excursion opportunities through the cruise lines tour operators from a Flow Rider surf machine to Catamaran sailings.
Past Partner Organizations
Fathom's lead impact partners, Entrena and IDDI, have strong community connections in the northern Dominican Republic. Their deep roots and long experience provide us with a greater understanding of the specific needs of the local communities, and their well-established programs form the foundation that allows us to help address those needs in the most meaningful way. (Adapted from Fathom.org)
Current Partner Organizations
Hope Floats partners with organizations like the International Red Cross, the Salvation Army, the Humane Society International, and Rotary international to create sustainable, safe, and impactful volunteer opportunities as shore excursions for cruise ship passengers across the Caribbean.
Costs
Limted Space Available - Full Payment of $999 due by January 24th, 2020
Contact or for more information
All students are responsible for reading and understanding this cost breakdown and the explanation of shipboard charges. Please ask questions of the program directors if you are unsure of anything.
Note: A passport is required for all participants. If you do not already have one, the cost of a new passport with standard processing and shipping is $135.00. See https://travel.state.gov/content/passports/en/passports.html.
Pay before departure:

| | | |
| --- | --- | --- |
| Application Deposit | $151 | Due with application |
| First payment | $424 | Due by Nov 8th, 2019 |
| Final Payment | $424 | Due by January 24th, 2020 |
The deposit and payments (totaling $999.00) cover the cost of your cabin, meals, taxes/fees, port charges, gratuities, program fees, and prepaid impact activities. Passport fees and other expenses are at the discretion of the student traveler.
Should you wish to secure your reservation with financial aid resources please contact our office and fill out the Title IV Authorization Form.
Shipboard charges:
At boarding, you must present a credit or debit card in your own name. The staff will place a $200 hold on that card. Your required gratuities, non-prepaid impact/cultural activities, and any purchases you make on the ship (drinks, excursions, rentals, souvenirs, wi-fi, etc.) will be subtracted from that $200. Carnival will place an additional hold if your expenses exceed the deposited amount. See details here: https://help.carnival.com/app/answers/detail/a_id/1138/~/sail-%26-sign-onboard-account
Your ship card, cabin number, and signature are used to confirm all purchases, and you can request a statement from the reception desk at any time.
Note that you are not required to buy anything on board the ship.
Expenses in port and on excursions:
Shops and cafés in ports and on excursions often accept U.S. dollars. You can withdraw cash from your ship account (deducted from your card as described above) with no exchange or service fee.
FAQ
Impact Travel
What is impact travel?
Impact travel provides the opportunity to build community with like-minded travelers, become immersed in another culture, and work alongside its people to create enduring social impact.
Why is it important?
Travel can make a difference for good. Many people long to make a difference in the world and within themselves, but have no idea where to begin. Globally, great things are happening to address some of the social and environmental needs in the world, but there is far more to be done. This program exists to connect people's passions and gifts with the needs in the world, and to help them navigate this complex journey. It exists to create meaningful social impact, and to unleash the greatness in every person.
What kind of impact activities can I participate in?
Impact activities include a range of projects focused on education, environment, and economic development. You'll be able to spend time working alongside locals and our partner organizations on the causes you really care about.
Will I have time to do other things besides impact activities?
Yes. You will participate in cultural activities with your cohort but will also have time to explore and enjoy traditional shore excursions, such as snorkeling, zip-lining or going to the beach.
Is there a set schedule of activities?
Yes. You will set your schedule in consultation with your cohort and program directors. The schedule will incorporate a variety of on-ground and on-board activities each day.
Trip Information
How long is the trip?
The trip spans one week, beginning and ending on Saturday:
Day 0 Board the Carnival Magic and depart the port of Port Canaveral in the afternoon
Day 1 Travel day at sea, with preparatory and formative activities onboard
Day 2 Amber Cove, Dominican Republic—Impact activity
Day 3 St. Thomas, U.S. Virgin Islands—Impact activity
Day 4 San Juan, Puerto Rico—Cultural activity & possible additional impact activity
Day 5 Grand Turk, Turks & Caicos—Nature/team-building activity/personal excursions 
Day 6 Travel day at sea, with summative and reflective activities onboard
Day 7 Arrive Port Canaveral in the morning
Students accepted to the Knights Impact program will receive a detailed daily itinerary in their program guides.
How much does it cost?
The program cost is $999.00. The price is based on two people sharing a room and includes:
on-ground impact activities and related supplies
onboard impact programs
daily breakfast, lunch, and dinner
a comfortable room for a good night's sleep
taxes, fees, port expenses
required gratuities
How do we get to the Dominican Republic?
You will sail from Port Canaveral on the Carnival Breeze, a full-featured, up-to-date cruise ship with a range of amenities.
How big is the ship?
The Carnival Breeze carries 3,690 passengers.
What is the recommended dress on board the ship and during activities? How do I pack?
Bring warm-weather essentials like lightweight shirts, pants, sunglasses, sunscreen, bathing suit and insect repellent. Some impact activities require closed-toed shoes and pants. Bring at least one pair of long pants, a shirt that covers shoulders and a pair of shoes you do not mind getting dirty. Casual dining options are always available but you will have a couple of opportunities during the program to dress up for dinner. See Carnival's packing recommendations here: Daywear and Evening Wear.
What dining options are available on board? Do you need to know if I have allergies?
Multiple dining options are available on board to accommodate many tastes and dietary restrictions. Please indicate food allergies or requirements and we will help you navigate the available options.
Please see https://help.carnival.com/ for detailed information about the onboard experience.
Destinations
Where does the ship go?
The ship will sail through the Eastern Caribbean, calling in the Dominican Republic, the U.S. Virgin Islands, Puerto Rico, and Turks and Caicos.
Why this iteinerary?
These countries offer natural beauty and rich culture combined with opportunities for impact. Our impact partners have deep roots in their communities. Their long-established programs and strong connections enable us to understand their specific needs and come alongside them to address those needs.
Are these countries safe?
These destinations are generally safe for travelers, but we recommend that travelers take standard precautions including not carrying large amounts of cash or valuables. Avoid wearing flashy jewelry or engaging in other behaviors that could draw undue attention. The Carnival Magic crew as well as the impact organizations' staffs and other personnel such as tour leaders are versed in extensive safety protocols in case any incidents occur. The ship is secured so that only passengers and crew are allowed on board.
May I bring items to donate to people in the Dominican Republic?
Our focus is on bringing empowerment to our friends and partners. Giving things is more complicated than you might think, and we want to be mindful of long-term, sustainable development and empowerment. Unfortunately, the impact organizations with whom we partner cannot accept material items for donation at this time. Please do not bring items to donate in the DR.
Experiential Learning
What is Experiential Learning@MGA?
Experiential Learning@MGA, Middle Georgia State University's Quality Enhancement Plan, is focused on enhancing and supporting experiential learning (EL) opportunities by promoting exploration and application beyond the classroom. Through internships, service learning, undergraduate research, and other EL opportunities, students' learning in the classroom becomes more powerful, facilitates career exploration, and provides a competitive advantage as students enter the workforce. More details can be found at www.mga.edu/experiential-learning.
What type of credit will I receive for my participation?
Students who participate in Knights Impact will qualify for the next eligible honor level under the Experiential Learning@MGA Initiative (i.e. silver, gold, or platinum). Students who have yet to begin the experiential learning program must complete the Bronze Level Module before departure or concurrently with their Knights Impact program in order to qualify for the next experiential learning level. Exemptions for the Bronze Level and details for self-registration in D2L can be found at www.mga.edu/experiential-learning under the tab "Bronze Level Module."
Is participation in the experiential learning element mandatory?
Yes: you and your cohort will engage in a series of scheduled debriefs and reflection activities, along with QEP and program assessments as part of Knights Impact.
Can I receive academic credit for my participation?
Opportunities for independent study credit may exist as part of this program. Students are responsible for coordinating proposals for mutual agreement between the program directors and their academic department chair. Academic credit will not be awarded in retrospect. Proposals require all appropriate course elements (i.e. syllabus, CRN, learning outcomes, and deliverable schedule) along with a narrative outlining the relevance of the destination and service elements of the trip to the course objectives.
On-Ground Activities
How will on-ground activities be scheduled?
The schedule has been created based on current local needs and availability.
How long does each activity take?
Impact activities may range from a few hours to a full day.
How strenuous are the activities? Are there limitations?
We will provide you an opportunity to let us know about your personal limitations, and we will work to ensure that the activities suit your needs.
Can I participate in impact activities every day?
Each day in port will offer either impact activities or cultural or team-building activities, based on current local needs and availability.
Are travelers required to participate in the on-ground activities?
Impact activities will be mandatory for Knights Impact participants.
Are there other activities available besides the impact activities?
Yes, there will be a wide variety of recreation activities and shore excursions for you to enjoy.
Is there an additional cost for these non-impact activities?
Many of the recreation activities will have an additional cost.
What happens if the weather is bad?
Many activities can take place despite inclement weather. However, alternatives will be planned when needed.
Safety and Security
Is the ship environment safe?
All crew members are extensively trained in precautionary health and safety measures, as well as how to respond in case of an incident. All travelers take part in a safety briefing during their first few hours on board to ensure that they are familiar with the ship's safety procedures and resources.
Do you offer travel insurance (medical and trip interruption)?
The Knights Impact program includes medical insurance. Participating students are encouraged to consider trip interruption coverage.
Accommodations
Can you arrange accommodations for me in Orlando before or after my trip?
Knights Impact does not arrange accommodations.
Do you offer a program in which individual students can be matched to share a room?
Yes. Program directors will match roommates by gender (as indicated on the program application), or students (same-gender) may request each other as roommates.
What are the amenities in the staterooms?
Each cabin has a desk, television, radio, telephone, hair dryer, tea and coffee maker, and a safe.
Is smoking permitted on board the Carnival Magic?
Smoking will be allowed in designated areas in the casino, nightclub, and in designated outdoor areas on Deck 5 and Deck 11.
Before You Go
Is there a fee to change names on a reservation?
Within 150 days of the departure date, there will be a fee of $50 to change one name on a reservation.
Travel Documents
Do I need a passport?
Knights Impact requires that students participating on this program have passports. We highly recommend that all participants carry a passport that is valid for at least six months beyond the completion date of your travel. Having a passport will enable you to fly from the U.S. to a foreign port in the event you miss your scheduled embarkation or to fly back to the U.S. if you need to disembark the ship mid-cruise due to an emergency.
Passports may be surrendered to and held by the pursers on board to facilitate clearances in ports of call. Photocopy the identification page of your passport and pack it separately, in case of loss or damage to the original.
Your name on your passport must be identical to those on your cruise documents. Otherwise, proof of name change (e.g. a marriage license) with a valid driver's license (or other government issued photo ID) must be presented. Any discrepancies may prevent travel.
Health Considerations
What should I do if I have a disability or medical condition?
Please document your medical condition or disability on the application form so that we can communicate the information as necessary.
Are there impact activities available for travelers who use a wheelchair or walker?
We can help select and accommodate the best activities for travelers with disabilities. Knights Impact does not discriminate against individuals on the basis of disability and will accommodate participants with disabilities to the extent feasible. However, some needs require adequate time to prepare for a traveler's arrival. Contact your program director as soon as possible to facilitate arrangements.
Travelers who are unable to care for their basic needs (dressing, eating, and attending safety drills) must have a capable traveling companion. The medical staff on board is not available for daily care unless an individual is hospitalized in the ship's Medical Center. In limited situations (either on board or on shore), we may find it necessary to ask the individual to make alternative travel arrangements, such as if an individual with a disability is unable to satisfy certain specified safety and other criteria, even when provided with appropriate auxiliary aids and services.
I'm pregnant. Can I go on this program?
Travelers who will enter the 24th week of pregnancy by the end of the trip will agree not to book the trip or not to participate in the trip.
What is the status of the Zika virus in the area?
According to the CDC, there is a risk of Zika virus in the Eastern Caribbean. Zika virus is transmitted by mosquitoes, and symptoms include fever, headache, red eyes, rash, and joint pain. The illness is usually mild and lasts between 2-7 days. The concern is greatest for women who are pregnant or who are trying to become pregnant because Zika virus is thought to cause birth defects. Other mosquito-borne illnesses, including dengue and chikungunya, are prevalent in the Caribbean as well. Guests should take enhanced precautions against biting insects by covering exposed skin and using insect repellent. Comprehensive health information can be found at: http://www.cdc.gov/zika/index.html.
Where can I find up-to-date health information?
You will find up-to-date travel information on the CDC Travelers' Health website, a U.S. government website at http://wwwnc.cdc.gov/travel
Check this site for details relevant to your destinations.
We recommend that you seek advice from your doctor to obtain appropriate advice and vaccinations prior to travel. Make sure your doctor knows that you will be taking part in activities that are based within communities, and that you may be ashore in the evening as the ship will remain alongside at night.
What type of medical facilities are available aboard the Carnival Magic?
The ship has a well-equipped medical center on board, supported by qualified doctors. Medical center staff is available 24 hours a day and the medical center has daily office hours.
Student Information and Application
Contact Us
Knight Impact
Program Directors
Prof. Chris Tsavatewa, Director, Office of Experiential Learning, , 478.361.3507
Dr. Laura Thomason, Director of International Programs, , 478.471.5765
Impact Ambassadors
Ms. Keigan Evans, Assistant Director of Residence Life,
Dr. John Girard, Peyton Anderson Endowed Chair and Professor of Information Technology,
Dr. Melinda Robinson-Moffett, Director of Career Services,
For Faculty and Staff:
Knights Impact invites interested faculty and staff to participate in student recruitment and education about this initiative. Depending on student numbers and space availability, faculty and staff may be eligible to join the program as co-directors. Co-directors will organize and supervise the program, facilitate daily meetings and reflection activities, and participate alongside students in shipboard training and on-ground programming. The program offers a complimentary cabin berth for every 9 students recruited; additional space may be available for faculty/staff participants at their own expense.
To serve as an Impact Abassador:
Contact Dr. Thomason or Prof. Tsavatewa to indicate your interest
Attend the initial interest meetings in Macon or Cochran (schedule TBA)
Promote or invite us to promote Knights Impact in your classes and campus events
Follow up with students to help with the application and booking process
 Keep up with us on Social Media with the hashtag #KnightsImpact
Follow us at
The Office of International Programs
The Office of Experiential Learning