MGA President Highlights Successful Fundraising Campaign, Building Projects, Economic Outlook, And More In State of the University Address
Author: News Bureau
Posted: Sunday, January 26, 2020 12:06 PM
Categories: Pressroom | School of Computing | School of Education and Behavioral Sciences | Students | School of Business | School of Health and Natural Sciences | Faculty/Staff | School of Arts and Letters | School of Aviation
---
Macon, GA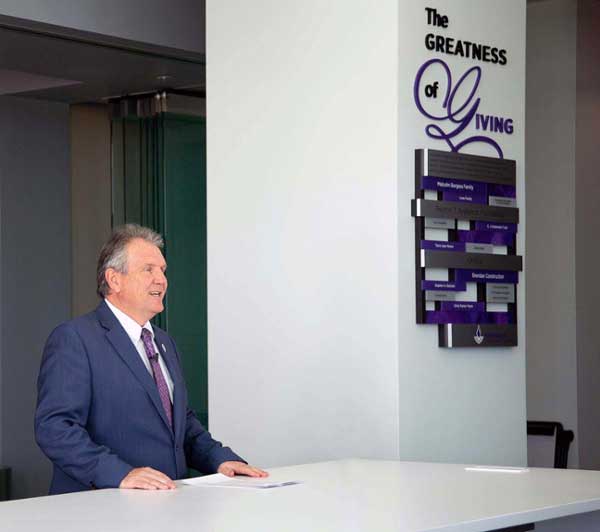 Despite the ongoing challenges of the COVID pandemic, Middle Georgia State University (MGA) made great strides in 2021, including pulling in $11.6 million in a record-breaking fundraising campaign, launching its first doctorate, and attracting greater numbers of students applying for admission, Dr. Christopher Blake, MGA president, said in his 2022 State of the University address on Wednesday, Jan. 26. 
"Middle Georgia State University is poised right now to move forward to new heights of excellence in its service to the people of Georgia," said Blake, who presented his address from the newly opened Peyton T. Anderson Enrollment Center on the Macon Campus. "We have weathered the headwinds facing us these past two years with great versatility, courage and success, and we are ready for new extraordinary achievements in the year ahead because we have resolutely and wisely persevered in our efforts together as a learning community."  
In reviewing some of the University's achievements and milestones, Blake noted the continuing work of the institution's COVID task force, "which kept us informed, healthy, and capable of managing our work so ably. … Our endurance and leadership have enabled us to pass some extraordinary milestones on the path we have trod for two years."  
Outlining some of the University's recent achievements and progress, Blake noted that:
The MGA Foundation's "Building A Legacy of Greatness" campaign, which concluded in fall 2021, raised more than $11.6 million, a University record. Funds raised through the campaign are being used to increase student scholarships and strengthen academic programs. Campaign proceeds funded the construction of the Peyton T. Anderson Enrollment Center, purchase of new aircraft for MGA's School of Aviation, and increased support for health sciences programs.  
MGA recently secured millions of dollars in new public funding to transform the Dublin Campus into a healthcare degree program hub, purchase more aircraft and equipment for the School of Aviation, and renovate Roberts Memorial Library and Dillard Hall on the Cochran Campus.

MGA enhanced staff salaries and made them more competitive following a study conducted by the University of Georgia's Carl Vinson Institute of Government. A similar effort is now underway for faculty compensation. Meanwhile, more pay enhancement could come by way of the General Assembly later this year if it approves Governor Kemp's proposed $5,000 increases in the salaries of all state employees. "It is imperative that this University attracts and retains talent, and this administration is committed to providing working conditions and salaries that achieve that end," Blake said. "Similarly, our record level of granting $500K in student scholarships, coupled with our extraordinary affordable price-point for tuition, ensures that our students receive the best value and quality education in Georgia."

MGA will continue to make the case for an economic model that is equitable to those of other state universities within the University System of Georgia. While he can't guarantee the ultimate outcome, "our case has never been stronger," Blake said. "I shall relentlessly press our case with the USG … (and we) will continue to press for resources from the state, from grant agencies, and from philanthropic donors so that we can continue to be both affordable and excellent," Blake said. 

The University introduced the "Be Well" initiative to expand mental health and wellbeing services to students. 
MGA graduated 800 students, a record number for fall, at December 2021 commencement ceremonies.
The University is expecting that in a few months the Southern Association of Colleges and Schools Commission on Colleges board will confirm its status as a Level 5 doctoral-granting institution. The University launched the Doctor of Science in Information Technology in summer 2021. "As we continue to see graduate enrollment growth and graduate programming diversify, we are poised to reach new student audiences across our region," Blake said. 

MGA is teaching IT courses to dual-enrolled Houston County high school students in a classroom at Project Synergy, co-located with the 402nd Software Engineering Group from Warner Robins Air Logistics Complex. This means the University is now providing information technology instruction from the high school through the doctoral level. Middle Georgia State is "the 'University of Choice' for many kinds of students, at different stages in their lives, their learning, and their circumstances," Blake said. 

While MGA has faced moderate pandemic-era enrollment declines, retention numbers are stronger and applications for fall 2022 admission are more than 20 percent higher than at this point last year. 

The University will make a renewed push to establish a unique identity at each of its five campuses and "create energy and vigor" for in-person academic and student life. "Online learning is essential to MGA," Blake said, "but must be used sparingly and intentionally, especially with undergraduate students, and not simply as a convenient option."   
Noting the state of Georgia's strong economic outlook, Blake said that MGA's response "must be to use this environment of optimism and opportunity to full advantage." 
"We can, in this economic climate and post-pandemic planning, deliver shortly a future for our University that will be more prosperous, rewarding and powerful than the past two years," he said. "While each of us feel the fatigue of the pandemic in our lives and our work, the warm winds that are starting to blow offer us not just the return of a spring season, but the tangible opportunity to make next year a huge win for Middle Georgia State University. We must keep our eye on that prize and work for it now with the conviction that it is going to be a better time ahead very shortly." 
This was Blake's ninth "State of the University" address since becoming MGA's president in 2013. The address is available in its entirety at https://www.mga.edu/president/state-of-the-university.php.  
Middle Georgia State University (MGA) serves about 7,900 students on campuses in Macon, Cochran, Dublin, Eastman, and Warner Robins. Students can choose from dozens of programs—from business to nursing to information technology to media and communication - that lead to bachelor's degrees. MGA also offers professional master's degrees in IT, secondary education, nursing, management, public relations, and technical and professional writing, as well as a doctorate in IT. The University is home to Georgia's flagship aviation school, based on the Eastman Campus.