Finding Greatness: Lumpoun Tello
Author: News Bureau
Posted: Tuesday, March 8, 2022 12:00 AM
Categories: Students | Pressroom | Finding Greatness | School of Health and Natural Sciences
---
Macon, GA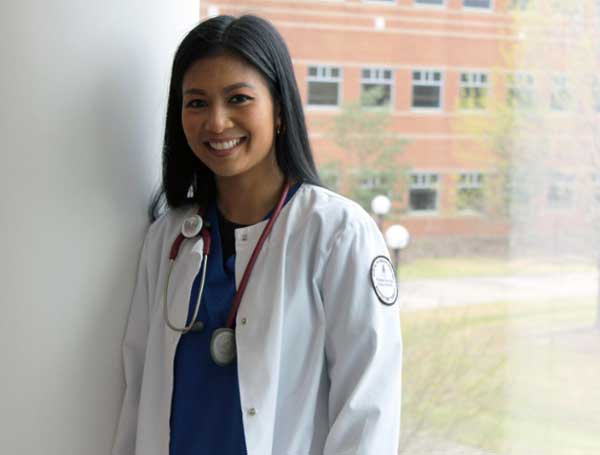 MGA respiratory therapy major Lumpoun Tello is among the students in the program's unique neonatal track. She hopes to begin her career working in neonatal intensive care.
Full Name: Lumpoun Paula Tello.
Age: 33.
Hometown: Fitchburg, Mass.
Residence: Griffin.
Family: Husband, Miguel Tello; children, Javier, Analisa, Andres, and Julian.
Employment: Full-time student and an intern at Wellstar Spalding.
Degree Objective: Bachelor of Science in Respiratory Therapy.
Class Rank: Senior.
Primary Campus: Macon.
Activities: Middle Georgia Respiratory Education Action Team (MGREAT); American Association for Respiratory Care (AARC) House of Delegates student mentorship program; neonatal track student; Wellstar Spalding extern.
Career Goals: "I want to be a respiratory therapist specializing in neonatal intensive care.  I want to be able to give babies a fighting chance at life. They are the smallest and most vulnerable patients, and I want to be that trusted support for their families."
She chose Middle Georgia State University because … "As an alumna of MGA, I wouldn't choose anywhere else to obtain another degree. I was given the opportunity to re-enter the amazing respiratory therapy program after previously being unable to finish because of some personal hardships, and I'm so glad I returned! Middle Georgia State University will always be home for me. All the professors I have encountered far have been amazing and have never given up on me."
The greatest thing she discovered about Middle Georgia State was … "How everyone becomes like a big family. My classmates and especially my professors, have all taken the time to invest in me and push me through."
Her greatest academic experience as a Middle Georgia State student has been … "Being able to network with people. Being a part of the respiratory therapy program has opened so many opportunities for me as far as building relationships and networking. I was able to attend the Georgia Society for Respiratory Care winter meeting and meet with recruiters, as well as other respiratory students. I was also able to be a part of the AARC House of Delegates student mentorship program. I was also on a local news program speaking about the neonatal track I am in. I was part of a video created to promote our program. And so much more!"-
To her, "greatness" means … "Looking into the eye of the storm and facing it head on. Greatness is the strength within you when there is nothing else left. There will always be obstacles in life - never back down and continue to fight for your dream."
In five years … "Professionally, I see myself becoming a well-rounded registered respiratory therapist helping both children and adults. I want to be able to grow and embrace this field, and hopefully get into a leadership position along the way. Personally, I want to enjoy life with my family and travel."