MGA's School of Computing Hosts Cybersecurity Seminar
Author: News Bureau
Posted: Thursday, March 24, 2022 12:00 AM
Categories: Students | Faculty/Staff | Events- Public | School of Computing | Pressroom
---
Macon, GA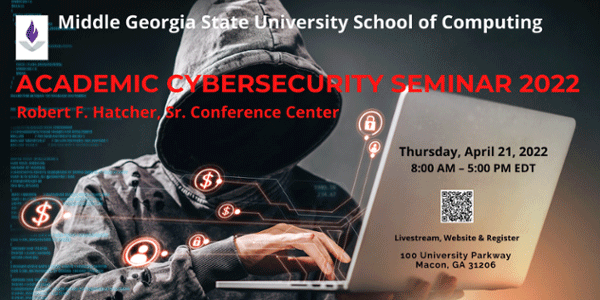 Representatives of the military, law enforcement, financial services, and other sectors are scheduled to speak at the 2022 Academic Cybersecurity Seminar hosted by Middle Georgia State University's School of Computing.
The seminar, which is free and open to the public, will take place from 8 a.m. to 5 p.m. Thursday, April 21, at the University's Hatcher Conference Center, located in the Professional Sciences building on the Macon Campus. This year marks a return to the annual seminar's in-person sessions, which have been suspended for two years due to the COVID pandemic. Participants will discuss innovations in IT and cybersecurity challenges.
"We are thrilled to return to a face-to-face format, although sessions will be livestreamed as well," said Dr. Scott Spangler, assistant professor of information technology and the seminar's lead organizer. "Cybersecurity attacks are the greatest threats to our community and nation today. The seminar supports the Department of IT's mission of broadening our community's knowledge and engagement through professional knowledge-sharing. Our cybersecurity curriculum and the Academic Cybersecurity Seminar educates the community about cybersecurity risks, methods hackers utilize to disrupt our devices and lives, and possible cyber breaches and tactics."
Scheduled speakers include:
Jennifer Solari - U.S. District Attorney, Southern District of Georgia
Patrick Sullivan - Director, Xacta Support Services, Telos Corporation and Part-time Faculty at Middle Georgia State University
Ryan Bennett - Digital Forensic Investigator, Georgia Bureau of Investigation
Stephen McNamara - Digital Forensic Investigator, Georiga Bureau of Investigation
Justin Brooks - Director of Information Technology, Southern Trust Insurance
Medi Jaafari - Engineer, Cisco Systems
Eyric Williams - Warner Robins Police Forensic Investigator
Alex Koskey - Baker Donelson
Adam Hudnall - System Administrator, Silvervine Software
Alex Young - Software Engineer, Center Capital
Sarah Talmage - U.S. Air Force
Dr. Kevin Floyd, associate dean of the School of Computing, said the seminar reflects Middle Georgia State's designation as a Center of Academic Excellence in Cybersecurity (CAE-C).
"The designation is awarded to regionally accredited U.S. institutions of higher education that meet rigorous requirements in their commitment to producing cybersecurity professionals who will reduce vulnerabilities in our national infrastructure," Floyd said.
Seminar sponsors include CompTIA, SimpleNexus, EC-Council, and the MGA Foundation. Registration and other information available at https://www.mga.edu/computing/information-technology/academic-cybersecurity-seminar/index.php.