MGA Baseball Hosts Second Annual Stuckey's Day At Stuckey Field
Author: Sheron Smith
Posted: Tuesday, April 12, 2022 12:00 AM
Categories: Students | Faculty/Staff | Pressroom | Events- Public
---
Cochran, GA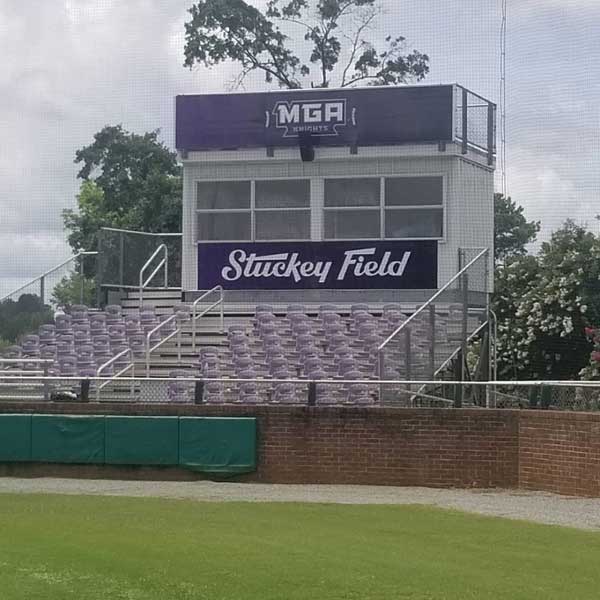 Middle Georgia State University (MGA) Knights baseball will host the second annual "Stuckey's Day" on Saturday, April 23.
The Knights will take on the University of Mobile at 12:45 p.m. at Stuckey Field on the Cochran Campus. Special guest Stephanie Stuckey will throw the ceremonial first pitch and give away some Stuckey's pecan log rolls and other merchandise. Admission is free and the public is invited.
Stuckey Day originated last year when Kathy Wilson, mother of player Ryan Wilson, wondered if the name of the baseball field on MGA's Cochran Campus had anything to do with the family behind the Stuckey's roadside stores she remembered so fondly from her childhood.
Turns out, it did.
Stuckey Field got its name in the late 1970s, according to Robert Sapp, the legendary baseball coach who led Middle Georgia College (now MGA) to four National Junior College Athletic Association championships. Sapp had been the team's coach for about a year when he began trying to raise money to install light poles at the then-unnamed campus baseball field so the team could play night games. He approached the Stuckey family, which contributed $10,000. That donation, according to Sapp, helped attract a few additional private donations, as well as some public funding through the state legislature.
Founded by the Stuckey family in Eastman in 1937, the iconic roadside store chain was popular for many years with travelers, who stopped to eat at the restaurants, shop the novelty sections, and buy the trademark pecan log rolls and divinity. Stuckey's roadside stores stood out for their teal blue roofs.
The chain's popularity later waned and ownership changed hands. In 2019, Stephanie Stuckey – a lawyer specializing in environmental issues and a former member of the Georgia House of Representatives - reacquired the company her family founded and is currently rebuilding the brand.
"We're excited to host 'Stuckey Day' again this year," said Julie Davis, MGA's executive director of Development & Alumni Relations who helped organize the event. "It's a fun way to pay tribute to an interesting piece of history on the University's oldest campus."
Cochran Campus map: https://www.mga.edu/about/campuses/docs/Cochran-map.pdf