Finding Greatness: Wesley Altham
Author: News Bureau
Posted: Tuesday, August 23, 2022 12:00 AM
Categories: Students | Pressroom | Finding Greatness | School of Computing
---
Macon, GA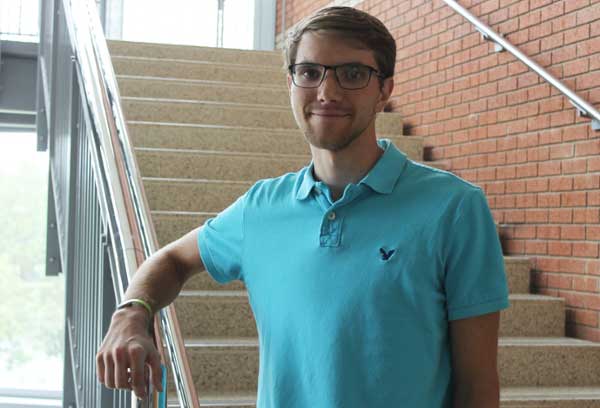 IT major Wesley Altham, president of the #MGA Cyber Knights, recently presented his research at DEFCON, one of the world's premier hacker conventions. His presentation – "I Know What You Ate Last Summer" – was a digital forensic analysis of a restaurant's POS system.
Full Name: Wesley Altham.
Age: 23.
Hometown: Warner Robins.
High School: Houston County High School, where he was a member of FBLA, winning top 5 -state level multiple times. He was an active member of the Georgia Cycling Association (then called Georgia Interscholastic Cycling League), and an Eagle Scout active in Boy Scout Troop 566 and Crew 33. 
Family: Mom, Julie; dad, Chris; sister, Maddie; and papa, Hugh Patterson Jr.
Employment: The Bike Store in Warner Robins. 
Degree Objective: Bachelor of Science in Information Technology with a concentration in cybersecurity. 
Class Rank: Senior.
Activities: President of the MGA Cyber Knights and cyclist on the Women's Health Professionals Racing Team.   
Career Goals: "I really am prepared to do anything in the IT field. I have completed an internship working IT support and system administrations. I find I like doing administration since it involves more machines than people. My other classes, like forensics analysis, have shown me that there are a few other avenues that would be interesting to do as a career."  
He chose Middle Georgia State University because … "It offered the opportunities I was seeking and is close to home, allowing me to be with family. MGA also has that small university feel which is nice because I know almost all my professors and if I ever need anything I know I can just ask."
The greatest thing he discovered about Middle Georgia State was … "MGA has a high level IT program. I was originally an engineering transfer student, with IT being my second choice, but I discovered I like cybersecurity more and moved to that."
His greatest academic experience as a Middle Georgia State student has been … "Getting to speak at DEFCON 30. My talk was titled, 'I Know What You Ate Last Summer' for the new Retail Hacking Village. I presented a digital forensic analysis of a restaurant's POS system. My digital forensics classes and ethics classes played a big role in giving me the skills to create this talk. Honestly, it tops everything I have done so far. Next year if I find a village to go with I will go in person to help." 
(Links to Altham's presentation: https://youtu.be/5GtzYJtqZJg and https://info.defcon.org/speakers/48830/.)
To him, greatness means … "I believe there are multiple levels of greatness. There is greatness on TV, like when Jonas Vingegaard waits for his close rival Tadej Pogacar after he wrecked on Stage 18 of the 2022 Tour De France. There is greatness like when you save others from danger. There is greatness you might only hear about secondhand from the family members who witnessed it, such as the man I am named after who turned his life around to become great."  
In five years … "I want to be working at a company that I like, Trek Bikes, for example, or another brand I use. All of those companies have IT and cyber staff positions. Also, I want to keep riding bikes and racing them for fun and fitness."