Finding Greatness: Courtney Anderson
Author: News Bureau
Posted: Monday, November 14, 2022 12:00 AM
Categories: School of Health and Natural Sciences | Pressroom | Students | Finding Greatness
---
Macon, GA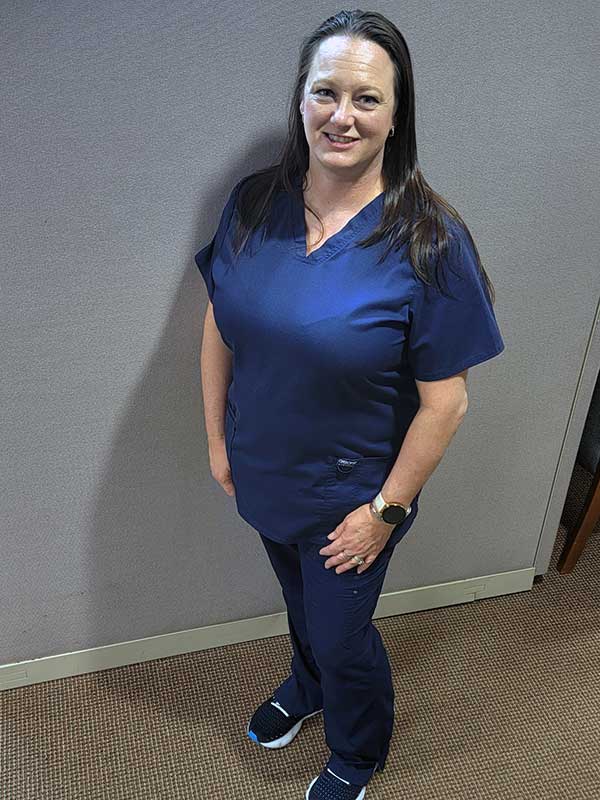 Courtney Anderson, a student in MGA's master's degree in nursing program, is the sepsis coordinator for Atrium Health Navicent. She and her husband founded a non-profit to increase awareness of the causes of sudden cardiac events among young athletes. Anderson is also the recent recipient of an Atrium Health research grant related to the use of pet therapy among adult patients.
Full Name: Courtney Michelle Anderson.
Age 40.
Hometown: Yucca Valley, Calif.
Residence: Gray.
Family "I have been married for 21 years to the love of my life. We have 4 children: Gabriel (19), Christian (17), Braydon (13) and Madison (8). Gabriel wrestles for Reinhardt University and is pursuing a master's in kinesiology with a business minor. Christian is a senior in high school and has had multiple offers from different universities for a wrestling scholarship. He wishes to pursue a master's in business and marketing."
Employment/Career Highlights: "Currently I am the sepsis coordinator for Atrium Health Navicent. I have been in this role for 2 and ½ years. I absolutely love my job. I find joy in encouraging and motivating others. This job allows me to identify opportunities for improvement and work to achieve positive results. For example, in March we started a code sepsis in the emergency department. We have seen a 17 percent reduction in sepsis mortality. Nothing motivates more than success."
Activities: "In 2019, my son Gabriel suffered from a heart attack after a wrestling tournament. He was 15. We learned that he had a congenital heart defect that is known to be the second leading cause of sudden death in young athletes. My husband and I started a non-profit organization called GABE - Giving Athletes Basic Echoes. Our goal is to increase awareness of the causes of sudden cardiac death and perform thorough sports physicals and screenings using an echocardiogram to detect risks that could lead to a significant cardiac event."
MGA Graduate Degree Objective: Master of Science in Nursing Adult/Gerontology Acute Care Nurse Practitioner.  
Other Degrees: Associate of Science in Nursing, Bluefield State University, Class of 2010; Bachelor of Science in Nursing, Middle Georgia State University, Class of 2018.
She chose Middle Georgia State University for graduate school because … "I earned my Bachelor of Science in Nursing at Middle Georgia State University. I was already established as an alumni, which made the application process much easier. I had such a positive experience with my undergraduate degree that I chose to continue with them to earn my graduate degree. The faculty are very encouraging and supportive. You really feel as though they are in your corner, fighting the battle with you to see you succeed."
Her greatest experience as a Middle Georgia State graduate student has been … "Having the ability to complete the courses online while I work and raise my family."
To her, greatness means … "Seeing opportunity in the midst of tragedy."
In five years … "I see myself becoming established and confident in my new role as a nurse practitioner although I am not quite sure where that will be. I also see myself advancing further in my education to obtain my doctorate. I'll be enjoying my family as it grows. I would also like to see our non-profit grow and be successful."