2022 College Town Film Series Explores "Revenge"
Author: News Bureau
Posted: Tuesday, January 4, 2022 12:00 AM
Categories: School of Arts and Letters | Pressroom | Faculty/Staff | Students | Events- Public
---
Macon, GA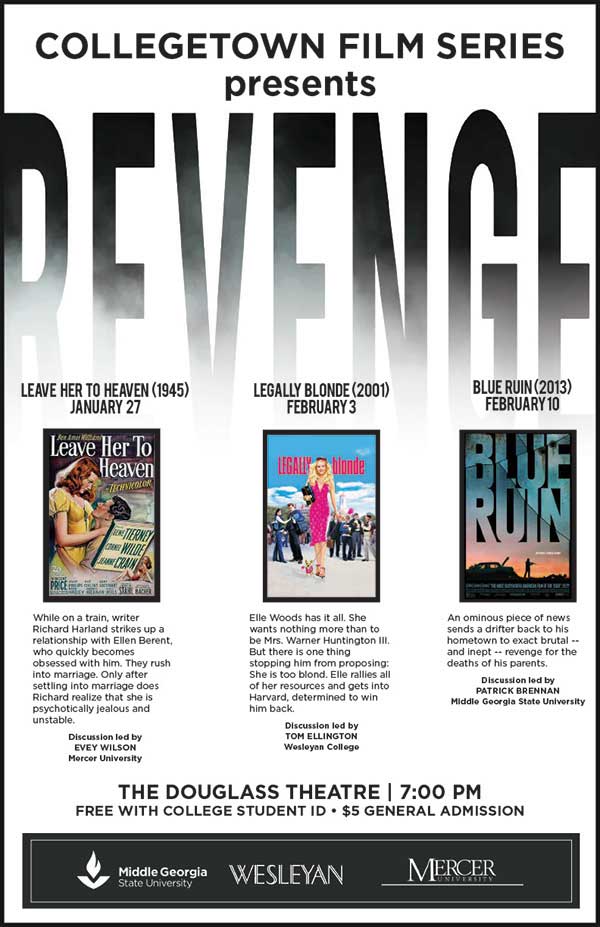 "Revenge" is the theme of the 2022 College Town Film Series, which kicks off Thursday, Jan. 27, at the Douglass Theater in Macon.

A collaboration of Middle Georgia State University, Wesleyan College, and Mercer University, the annual College Town Film Series brings students, faculty, and the public together to view and discuss educational and entertaining films with a common theme. A professor from each institution hosts discussions of each film.
The 2022 film selections and screening schedule are:

7:00 p.m. Thursday, Jan. 27
"Leave Her To Heaven," hosted by Evey Wilson, Mercer University
A writer falls in love with a young socialite and they're soon married, but her obsessive love for him threatens to be the undoing of them both as well as everyone around them. (IMDB)
7:00 p.m. Thursday, Feb. 3
"Legally Blonde," hosted by Tom Ellington, Wesleyan College
Elle Woods, a fashionable sorority queen, is dumped by her boyfriend. She decides to follow him to law school. While she is there, she figures out that there is more to her than just looks. (IMDB)

7:00 p.m. Thursday, Feb. 10
"Blue Ruin," hosted by Patrick Brennan, Middle Georgia State University
A mysterious outsider's quiet life is turned upside down when he returns to his childhood home to carry out an act of vengeance. Proving himself an amateur assassin, he winds up in a brutal fight to protect his estranged family. (IMDB)

All films will be screened at the historic Douglass Theater, 355 Martin Luther King Jr. Boulevard in downtown Macon. Students with college ID are admitted free. Admission for faculty/staff and the general public is $5. Tickets may be purchased at the door on the night of each screening.