Number of Graduates To Set MGA Spring Record
Author: News Bureau
Posted: Tuesday, April 26, 2022 12:00 AM
Categories: School of Business | School of Health and Natural Sciences | Faculty/Staff | School of Education and Behavioral Sciences | Students | School of Aviation | Pressroom | Honors/Awards | School of Arts and Letters | School of Computing
---
Macon, GA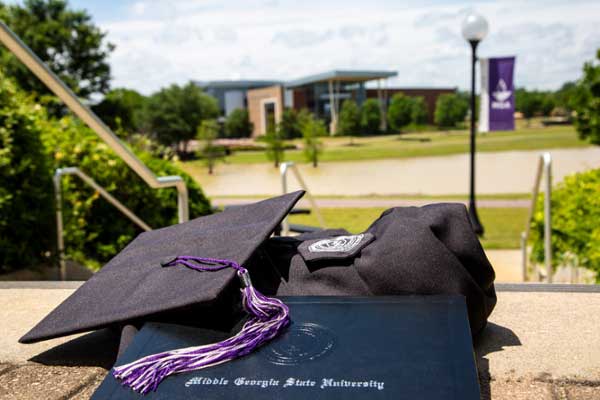 Nearly 760 students are candidates for graduation at Middle Georgia State University's spring 2022 commencement ceremonies. That is the highest number of prospective graduates for a spring commencement season in MGA's history.
Of the 756 students set to graduate, 92 are earning master's degrees while 521 will be collecting their bachelor's degrees. The rest are graduating with associate's degrees or certificates.
Five ceremonies are scheduled to take place over a two-day period: Wednesday, May 11, and Thursday, May 12. All ceremonies will take place in the Recreation & Wellness Center on the Macon Campus.
Scheduled commencement speakers are Gretchen Corbin, president and CEO of the Georgia Lottery Corporation (1 p.m. Wednesday, May 11); Laura Whitaker, CEO of Extra Special People, Inc. (4 p.m. Wednesday, May 11); Arthur L. Tripp, Jr., executive director of USDA Farm Service Agency in Georgia (10 a.m. Thursday, May 12); Dr. Curtis Jones, Jr., superintendent of the Bibb County School District (1 p.m. Thursday, May 12); and state Rep. Robert Pruitt (4 p.m. Thursday, May 12).
The student speaker at all five ceremonies will be Rebecca Symone Caldwell, the Class of 2022's President's Scholar.
The ceremony schedule is:
Wednesday, May 11
1 pm
School of Health & Natural Sciences
    Department of Nursing - Undergraduate
4 pm
School of Health & Natural Sciences
    Department of Nursing – Graduate
    Department of Natural Sciences
    Department of Respiratory Therapy
    Department of Rehabilitation Sciences
School of Business
    Department of Health Services Administration
Thursday, May 12
10 am
School of Business
    Department of Accounting and Finance
    Department of Management and Marketing
School of Education & Behavioral Sciences
    Department of Psychology, Sociology, and Criminal Justice
    Department of Political Science
1 pm
School of Education and Behavioral Sciences
    Department of Education and Social Work
School of Computing
    Department of Information Technology
4 pm
School of Aviation
    Department of Aviation Science and Management
    Department of Aviation Maintenance and Structural Technology
School of Computing
    Department of Mathematics and Statistics
School of Arts & Letters
    Department of Media, Culture, and the Arts
    Department of English
    Department of History
All ceremonies will be live-streamed at mga.edu/live