New State Funding To Help MGA Increase Pipeline of Pilots & Other Professionals Into Georgia's Aviation Industry
Author: News Bureau
Posted: Thursday, May 12, 2022 12:00 AM
Categories: Students | School of Aviation | Faculty/Staff | Pressroom
---
Eastman, GA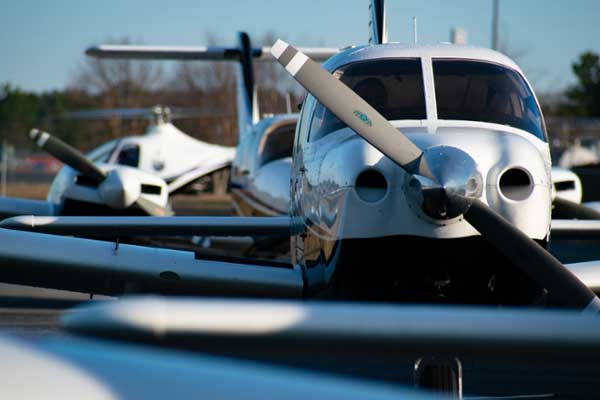 Following an investment of resources from the state, Middle Georgia State University (MGA) is better able to implement plans to bolster Georgia's flagship School of Aviation in ways that will begin to address the long waiting list of aspiring pilots seeking admission.   
The funding is part of the fiscal 2023 Georgia state budget that Gov. Brian Kemp signed on May 12. The bond funding is in the budget approved the Board of Regents on May 10. These funds will allow the University to invest in new aircraft and equipment and create more aviation-related leadership, service, and education initiatives.   
"This investment from the state will help students pursuing aviation at our School of Aviation," said Adon Clark, the school's dean. "We have a waiting list for our flight program. These resources will help us speed up the process of moving more students into classrooms, labs, and aircraft so they don't have to leave the state for their aviation education."    
The new resources include: 
$3,530,000 in bond funding, a request made through the University System of Georgia, to be used to pay for aircraft, parts, and equipment (including hangars).
$1,920,073 for line-item operations, which will be added to earlier funding for a total of $2,170,073. These funds will be used to increase safety and create aviation career path programs that focus on leadership, service, and education initiatives. 
"We are very grateful for the support of our state leaders and the Board of Regents and are committed to being responsible stewards of these new resources," said Dr. Christopher Blake, MGA's president. "With the state's previous investment, this year we expect to graduate significantly more pilots and maintenance technicians – the highest in the school's history. Since many of our graduates begin their careers at Georgia-based companies, these new aviation professionals will help continue to address the workforce needs of Georgia's second largest industry." 
Founded in 1995, the Eastman-based school has gained international accreditation for its bachelor's flight program and is one of 14 partner universities of Delta Propel, the airline's collegiate pilot career path. In addition to the Eastman hub, the school operates a satellite location in Macon. Operating a current fleet of 52 aircraft, enrollment has increased more than 200 percent in the past five years.  
In addition to the bachelor's degree program in aviation science and management, the University offers applied associate's degrees in air traffic management, aircraft structural technology, and aviation maintenance technology, along with several certificate programs. MGA also offers an aviation-focused master's program in management and an applied bachelor's program in technical management.