About 750 Students Set To Graduate At MGA's Fall Commencement Ceremonies
Author: News Bureau
Posted: Monday, November 28, 2022 12:00 AM
Categories: School of Computing | Students | School of Arts and Letters | School of Education and Behavioral Sciences | Pressroom | School of Health and Natural Sciences | School of Aviation | Faculty/Staff | Honors/Awards | School of Business
---
Macon, GA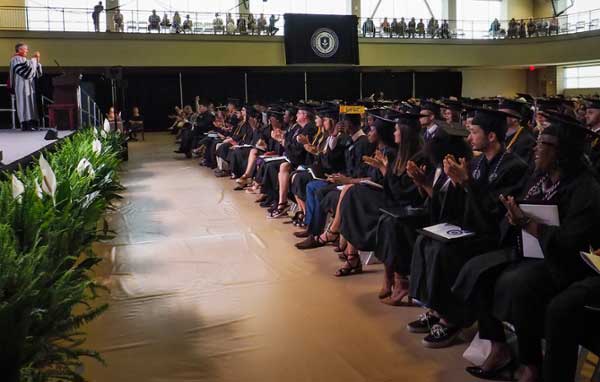 About 750 students are candidates for graduation at Middle Georgia State University's (MGA's) fall 2022 commencement ceremonies.
Five ceremonies will take place over a two-day period: Wednesday, Dec. 7, and Thursday, Dec. 8. All ceremonies will take place in the Recreation & Wellness Center on the Macon Campus and livestreamed at mga.edu/live.
Of the graduation candidates, 85 are earning master's degrees while 556 will be collecting their bachelor's degrees. The rest are graduating with associate's degrees or certificates in career programs.
The ceremony schedule is:
Wednesday, December 7
1 pm
Commencement speaker: Dr. Ryan Schnetzer, orthopaedic spine surgeon, OrthoGeorgia
School of Health & Natural Sciences
Department of Nursing
Department of Natural Sciences
Department of Rehabilitation Science
Department of Respiratory Therapy
4:30 pm
Commencement speaker: James "Jay" Bailey, president and CEO, Russell Innovation Center for Entrepreneurs
School of Business
Department of Accounting & Finance
Department of Health Service Administration
Department of Management & Marketing
Thursday, December 8
9:30 am
Commencement speaker: Careshia Moore, president and CEO, Usher's New Look Foundation
School of Computing
Department of Information Technology
Department of Mathematics & Statistics
School of Arts & Letters
Department of English
Department of History
Department of Media, Culture, & the Arts
1 pm
Commencement speaker: Col. Lindsay C. Droz, 78th Air Base Wing Commander, Robins Air Force Base
School of Aviation
Department of Air Traffic Management
Department of Aviation Maintenance & Structural Technology
Department of Aviation Science & Management
4:30 pm
Commencement speaker: David Davis, Bibb County sheriff
School of Education & Behavioral Sciences
Department of Education & Social Work
Department of Political Science
Department of Psychology & Criminal Justice
The student speaker at all five ceremonies is Modupe Oyewole, current president of MGA's Student Government Association.  
The Recreation & Wellness Center is located off Ivey Drive on the west end of the Macon Campus. Directions and other information are at https://www.mga.edu/graduation/directions.php.
MGA serves students on campuses in Macon, Cochran, Dublin, Eastman, and Warner Robins, and through fully online degree programs. Students can choose from 65+ areas of study. The University is home to Georgia's flagship aviation school, based on the Eastman Campus. Middle Georgia State offers undergraduate and master's degree programs, as well as a doctorate in information technology.