Annual Staff Awards
The Staff Council of Middle Georgia State University is proud each year to recognize three outstanding staff members with our annual Staff Awards. MGA's staff serves our campus communities with a dedication to excellence that goes above and beyond, providing exceptional service to our students and their families, faculty members, community neighbors, and to one another. The staff members presented with these awards each year have excelled in the performance of their duties and their attention to the University's core values of Stewardship, Engagement, Adaptability, and Learning.
Each of the three awards presented by Staff Council comes with a cash award and a plaque to display in the winner's workspace:
Service Excellence Award - For a staff member who has made exceptional contributions, exceeding normal expectations, to deliver superior service to members of the campus community and/or the community at large. Think "exceptional customer service."
Unsung Hero Award - For a staff member who works behind the scenes, and yet continues to go above and beyond the call of duty to improve the MGA experience for students, coworkers, faculty and/or staff. Think "behind-the-scenes."
Champion Award - For a staff member who has exemplified MGA's core values of Stewardship, Engagement, Adaptability, and Learning. Think "exemplifies MGA's core values."
The winners of these awards will be announced each year at Fall Convocation.
Nominations will be accepted between Feb. 1 and May 1 of each year.
For eligibility information, nomination process, and selection criteria, please click on the sections below.
Staff Award Winners
2022 Staff Awards Winners
During Convocation on Thursday, August 4th, the Staff Council was pleased to announce the winners of the 6th Annual Staff Recognition Awards. Three staff members were recognized by their peers for going above and beyond to provide a positive experience for our students, employees and the Middle Georgia region.
Service Excellence Award winner: Ashley Turner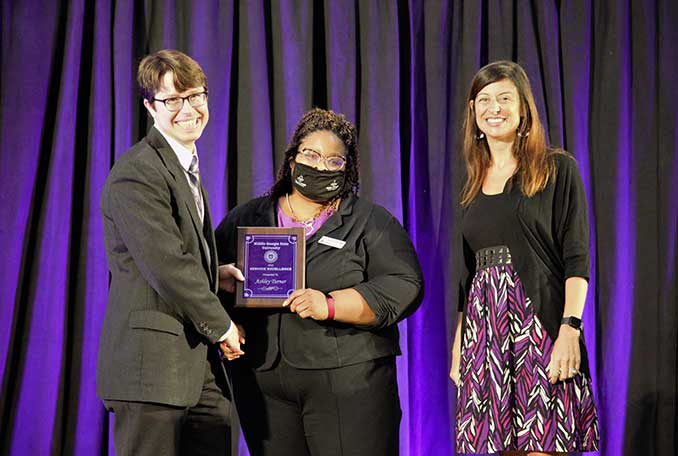 Unsung Hero Award winner: Thomasa Negron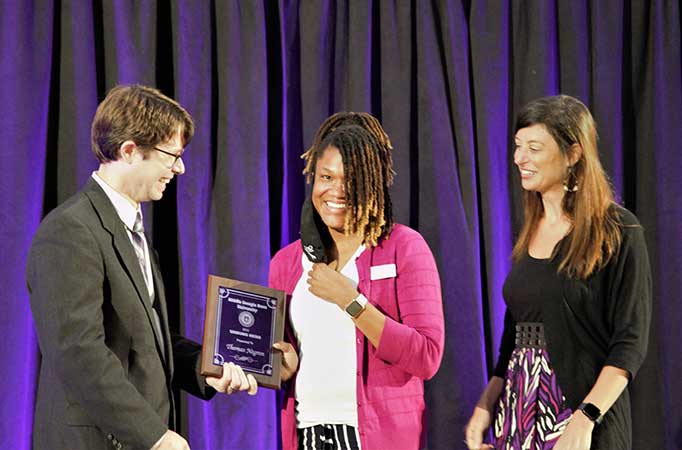 Champion Award winner: Devereaux Lindsey