Institutional Assessment
The Office of Institutional Research and Data Strategy (OIRDS) is responsible for the collection, and in conjunction with the Institutional Effectiveness Board of the Faculty Senate the analysis of institutional assessment data. Middle Georgia State University has identified July as "assessment month" and during this month collects administrative, academic, and academic and student support assessment information from the previous academic year. This assessment is part of the institution's effort to remain SACSCOC compliant, but more importantly to implement quality management practices.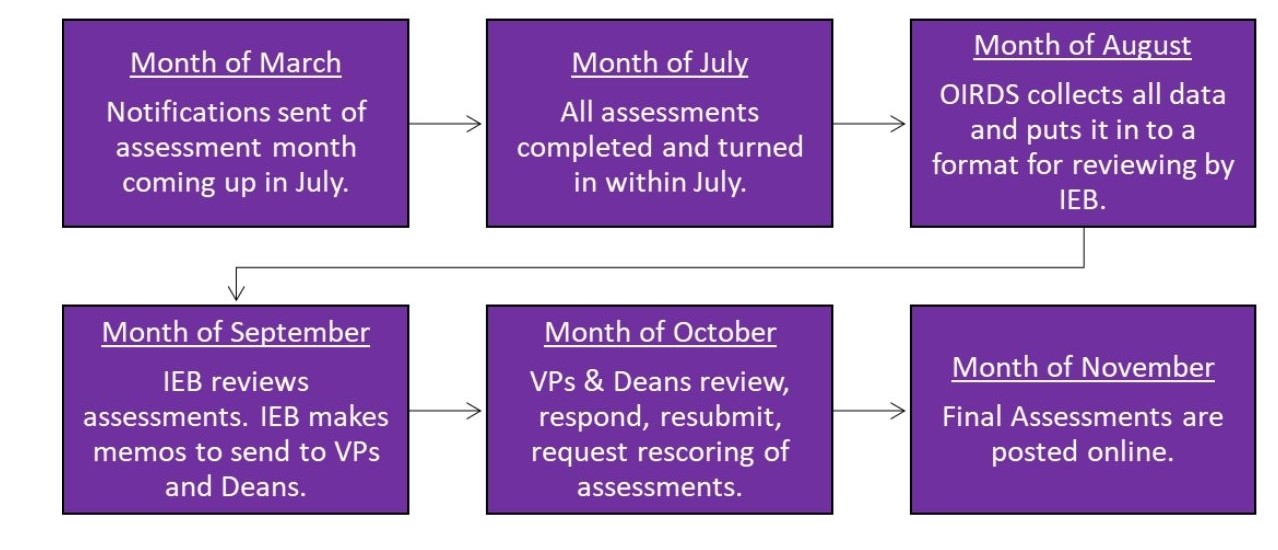 The assessment system and the assessment forms integrate two management systems (Drucker, 1954: The Practice of Management). One is based on the management letter which allows for a free flowing discussion between managers and individuals under their direction. While we don't use the letter itself in our management systems today, the idea of including free flowing text is an important part of assessment and is included in the forms used by MGA. The free flow responses create a space for long term goal setting, the development of mission statements or statements of purpose and a narrative about what is happening in the department and what the future holds. The second set of responses are based on a management by objective system in which managers and those under their direction jointly set specific measurable objectives for a given period of time and then receive reports as to whether or not the objectives were accomplished.
Both systems are important to capture long term planning and annual results. Each form is linked below along with a brief description of its intended purpose.
Administrative Assessment
This form should be completed by every leader of a budgeted unit during the month of July for the previous fiscal year. It applies to all academic and nonacademic departments. The mission statement, goals, and objectives should be clearly linked to the current MGA strategic plan. You can find a print version of the assessment here.
Academic Program Assessment
Quality academic program assessment is based on an assessment plan that identifies learning outcomes as well as a curriculum map outlining where the learning outcomes are taught and how student learning is assessed. Effective program implementation also requires effective course scheduling that allows for students to plan ahead and complete a program on time. MGA's list of academic programs, approval histories, assessment plans, and master course schedules are linked here. The Academic Program Assessment form should be completed by academic program directors for every program offered at each location annually. You can find a print version of the assessment here.
Academic and Student Support Assessment
This form is designed to capture student learning that occurs outside the classroom, but within academic and student support areas. This form should be completed annually by all directors of tutoring, counseling, disability services, and similar centers that have an academic or student support mission. Both the Academic and Student Support Assessment Form and the Administrative Assessment Form should be completed by the director of each center annually. You can find a print version of the assessment here.
Data collected through each of these forms will be summarized and analyzed on an annual basis and posted to the Institutional Research and Data Strategy web page.
---------------------------------------------------------------
Assessment Methodology Direct and Indirect Measures can be found here.
IEB Assessment Rubric for Administrative Units can be found here.
IEB Assessment Rubric for Academic Program, Advising, and Student Support can be found here.
--------------------------------------------------------------- 
Per MGA's Senate Bylaws, the Institutional Effectiveness Board (IEB) "shall provide leadership for the overall direction and support of institution and academic effectiveness, assessment, and improvement; coordinate, evaluate, and facilitate the use of Comprehensive Program Review (CPR) reports to make recommendations for program improvements or program viability to the Vice President for Academic Affairs; and ensure the integrity of assessment activities
The Institutional Effectiveness Board (IEB) is comprised of interdisciplinary representation of faculty who serve 3-year terms. During the review process, School/Department representatives do not participate in the evaluation of their affiliated programs but may be available as a resource for questions of context. Representatives receive professional development training in the best practices of assessment and relevant standards contained within the Principles of Accreditation. The IEB not only oversees ongoing assessment of academic programs, but administrative units, and academic and student support services. The responsibilities of the IEB include: 
develop and assist in the implementation of the University's institutional effectiveness policies and procedures 
monitor the quality of academic program and unit assessment results, reports, and plans. 
evaluate program and unit assessment reports (qualitatively and quantitatively)
provide annual summary reports and feedback to unit leadership documenting evaluation and recommendations
serve as the affinity group for idea and information exchange in matters of planning and assessment
function as subject matter experts and departmental liaisons for planning and assessment 
foster collaboration and the utilization of tools and resources to enhance planning and assessment