Strategic Plan
Middle Georgia's Path to Excellence
Core to any institution's growth is solid planning. At Middle Georgia State University, we pride ourselves on using input from local and regional leaders, the businesses who will be employing our graduates, and – of course – our faculty, staff, and students in the creation of our strategic plans. Below, you will find details about MGA's strategic planning efforts, constantly updated as our plans grow and change with the needs of our students and our communities.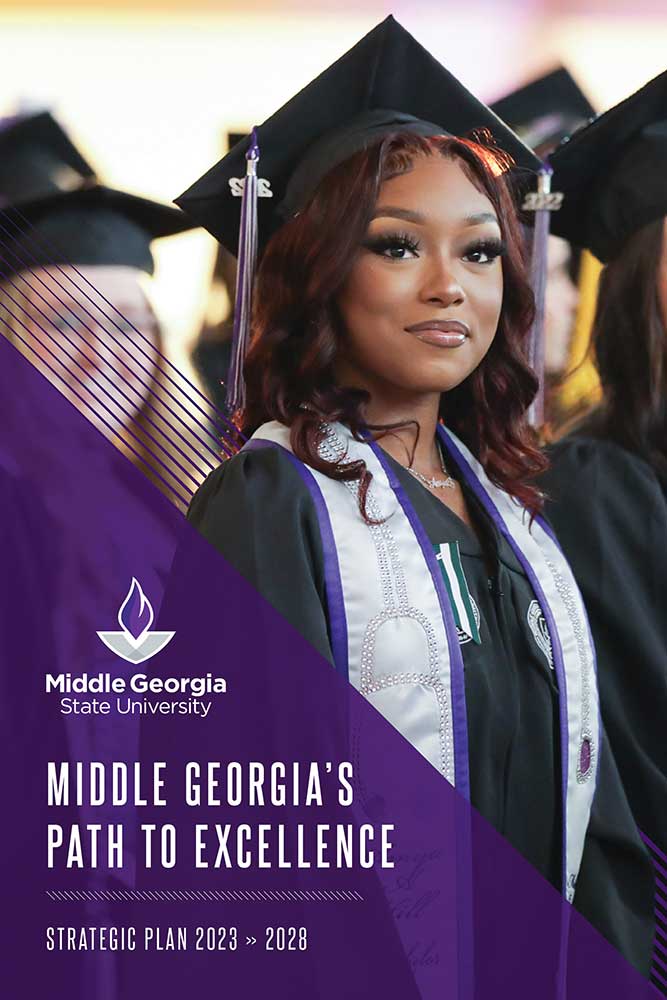 Click here to view the Plan
Current and Prior Strategic Plans
2015-2018: Greatness Begins Here
Year 3: Delivering on Greatness
Year 3 Initiatives:
Focus on Enrollment
Deliver Strategic Enrollment Plan by December 2017
Deliver Academic Master Plan by April 2018
Deliver "The Armory"—new intentional advising and student success model and system serving at least 2,400 first- and second-year students per year—beginning in Fall 2017
Deliver proposals for four new degree programs in FY2018
Deliver Strategic Technology Plan by April 2018
Strengthen Governance and Foster Community
Deliver Leadership Training Program for 50 employee participants by Spring 2018
Deliver better internal communications with:

Monthly face-to-face institution-wide directors' meeting starting September 2017
New Intranet by March 2018
Leverage Resources and Increase Revenue
Deliver outreach to secure diversified revenue:

Continue first Capital Campaign in a decade

12% increase in fundraising for needs-based scholarships in FY18 over FY17
Secure multi-million-dollar gift to fund a center to help first-generation students

Launch grant writing infrastructure
Seek funding from the 2018 General Assembly for FY19

$1.8 million to support sector change
$4.9 million for statewide aviation growth
$12.5 million for major capital improvements in Cochran
Enhance Service to Students
Deliver 75% of Student Affairs programming aligned to Student Engagement model

Guide 100 students to Bronze certification in Experiential Learning

Deliver Comprehensive Housing Plan with alternatives to P3 and living-learning communities for implementation and launch in Fall 2018
2017-2018: Updates - Delivering on Greatness
Fourth Quarter - Coming August 2018
Year 2: Greatness in the Making
Our strategic priorities for the 2016-17 Academic Year have been shaped by input from our faculty and staff. Our priorities are centered on five main areas - click on each area below to find out what faculty and staff said, and what MGA's next steps in that area will be:
2016-2017: Updates - Greatness in the Making
Year 1: Greatness Begins Here
Strategic Plan Successes: Convocation 2016
At the Fall 2015 Convocation, Middle Georgia State University announced its 2015-18 Strategic Plan, entitled "Greatness Begins Here." Outlined in this plan were 47 strategic priorities, grouped into five categories:
Quality and Distinctiveness of Student Success
Academic Reputation, Flagship Programs, and Community Outreach
Technology for a 21st Century University
Fiscal Sustainability
The MGA Community of Faculty and Staff
Over the 2015-16 Academic Year, the MGA administration, faculty, and staff focused their attention on these 47 priorities. As of September 2016, MGA is proud to report that:
70% (29) of the action items have been completed;
26% (16) are currently in progress continuing into 2016-17; and
4% (only 2 action items) were found to be not feasible at this time after further analysis.
To see MGA's progress on the 2015-18 "Greatness Begins Here" plan, click on the image to the above. In this document, you'll find the original Strategic Plan, marked with icons reflecting the status of each strategic initiative for Year 1 (2015-16). A green checkmark means an initiative is complete, a yellow arrow indicates the initiative is in progress, an arrow and a check means we completed an important first step on the initiative last year, and a red "x" means an initiative is not feasible at this time.
The number in parenthesis following each item refers to the Year 2 (2016-17) initiative that will build upon our progress as we move forward together. Look at the video above to see examples of how far we have already come!